Wanted to Foreigner UI/UX designer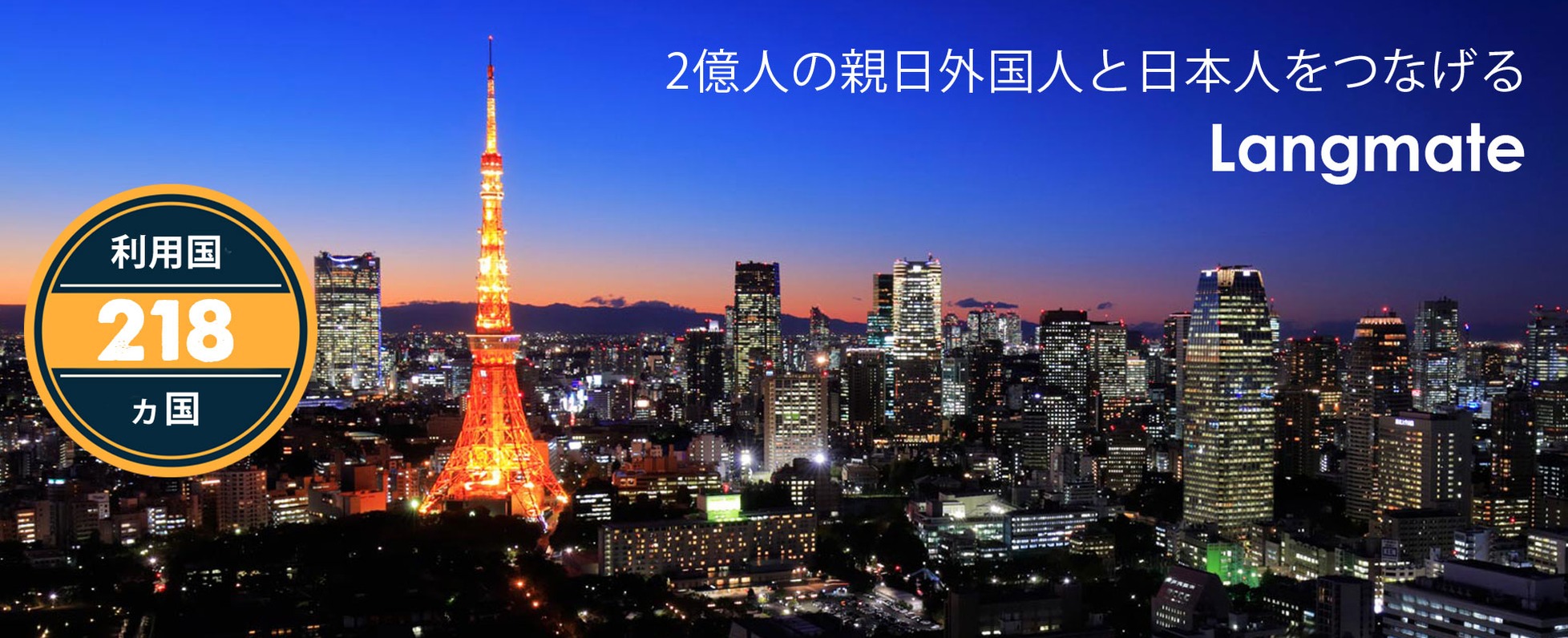 Langmate Corporation CTO.
Born in Shinjuku in 1980.
Volunteer activity in the disaster area with Tokyo's colleagues for two years from 3.11. At that time, I was thinking about the idea underlying Langmate.
I recruit talented people who are curious and curious about Internet services.

After graduating from university, join to an artificial hot spring company.
Handle overseas deals.
I felt the necessity of English and studied English in Cebu at the age of 35.
Focus on what you can speak English and master it.
After returning home, my brother joined as Langmate's project man...
Langmate is a company that develops and operates a matching service "Langmate" that connects Japanese people with people all over the world.
As of April 2019, it has been used by more than 450,000 people interested in Japanese culture, cartoons and animation, movies and music, history and literature, tourism and gourmet in 218 countries.
Langmate has already been downloaded 1.2 million and ranked high in the education rankings of Apple stores worldwide.
Users around the world can use Langmate to become friends with Japanese people and learn Japanese.
Japanese can experience international exchange and can learn English.
Langmate was released as an iOS app in 2016.
People in the world are saying.
"It is difficult to be friends with Japanese people"
We wanted to solve this problem.
Japanese people are famous for their love of travel.
There are many Japanese who are interested in the world and want to be friends with people all over the world.
Langamte was launched as a service that connects such Japanese people with the world.
More than two years after the service started, Langmate has grown.
Langmate is within 10th place in over 150 countries worldwide. (App store's Education category DL ranking)
However, Langmate can still improve the value of the service.
The goal is to gain popularity among foreigners who have been increasing year by year and foreigners who like Japanese culture.
Langmate Co., Ltd. is a startup company founded on July 28, 2017.
Currently, we are developing with only three people, and we are looking for the ability to accelerate to the world.
・ We do not choose work place, time depending on you
If you earn the trust of us, you can work at a time and place that is perfect for you.
At first we gather in the office in Shiba, Minato-ku, Tokyo about three times a week to discuss and develop.
・ The center of service development is me
The theme of development is "world-class service".
If you have a global perspective, actively go ahead and pull Langmate.
Please try to download Langmate once.
We are looking for your skills and passion.
●important●
Support to get a visa.
We have a lot of experience getting visas.
Would you like to challenge the global market with us?
I would like to work with UI/UX designer who want to make a service not to lose overseas.
This time we are looking for foreign UI/UX designer who want to work in Japan.
The details are as follows.
UI / UX designer
What we would like you to work on together
· To make UI design loved in global market
Ability required
· UI design experience for smartphone applications or web services
· Experience in visual design work in Photoshop, Sketch, etc.
· Language of design concept · Proposal experience
· Experience of research analysis of competing services
· Experience in a collaboration team environment
· Broad vision and curiosity for the global market
※ If you have the following experiences and skills, you are more welcome
· Experience with startup
· I have experience developing either iOS / Android application
·English skills
※ I would like to meet and meet with you regarding the conditions.
Thank you.
一緒にグローバルマーケットに向かって勝負しませんか。
「我こそは!」という海外に負けないサービスを作りたいUI/UXデザイナーの方と一緒にお仕事がしたいです。
すでに黒字化していますので、今後メンバーを増やす予定です。
今回は、日本で働きたい外国人UI/UXデザイナーの募集です。
求めている人材とスキルは以下の通りです。
UI/UX designer
一緒に取り組んでいただきたい内容
・グローバルマーケットで愛されるUIデザインを作り上げること
求めている能力
・スマートフォンアプリまたはWebサービスのUI設計の経験
・PhotoshopやSketch等でのビジュアルデザイン業務の経験
・デザインコンセプトの言語化・提案経験
・競合サービスの調査分析経験
・コラボレーションチーム環境での経験
・グローバルマーケットに対する視野の広さと好奇心
※以下の経験・能力がある方であればさらに歓迎です
・スタートアップでの経験
・iOS/Android いずれかのアプリの開発経験がある
・英語力
※条件に関してはお会いして打ち合わせしたいと思います。
よろしくお願いいたします。
募集情報
探している人
UI/UX designer
採用形態
インターン・学生バイト / 中途採用 / 副業・契約・委託
募集の特徴
言語を活かした仕事 / 留学生さん歓迎 / 週末からのコミットでもOK / 学生さんも歓迎
会社情報
創業者
Dai Kuwabara
設立年月
2017年7月
社員数
4人のメンバー
関連業界
情報通信(Web/モバイル)