Want to meet our Founder and CEO, Akiko Naka?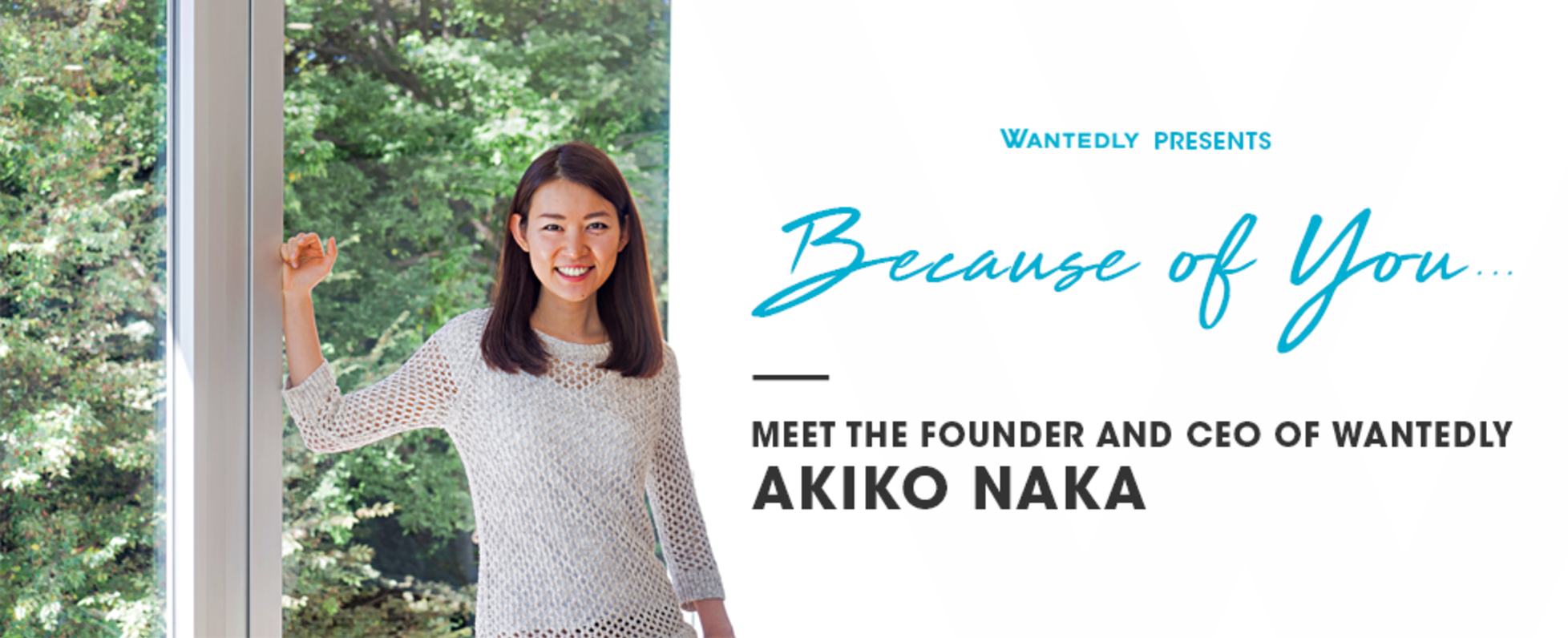 I am currently with Wantedly, a social hiring platform that emphasizes the people aspect of working within and building a company.

I worked in the fashion industry in New York City for the past two summers (2015 and 2016), collaborating with companies such as Elle, Porter, Vogue Hommes, H&M, UGG...

I am a resourceful, ambitious individual with over 8 years of experience working with startups in different countries (USA, Chile, Singapore, Sri Lanka) and have started a few as well. I am always looking for fun challenges and to meet interesting people.
Founded in 2010, Wantedly is a Tokyo-based startup helping you discover jobs that ignite your passion. We've created a platform, where people and companies meet based on passion and values, rather than simple salary and benefits. Every day, we work on adding new features that further enrich your work experience.
We are currently one of Japan's business networking platforms with over 2.4-mil monthly active users and brands like UBER, Airbnb and Buzzfeed are acquiring talent via our platform.
Now, we are here in Singapore to leverage the power of social media and networking to make your dream job a reality. #WantedlySG
Wantedly aims to connect talents with companies based on shared mission and values, rather than salary and benefits.
Striving to Create a World Where Work Drives Passion, we want to provide opportunities for talents to discover their dream companies, while allowing companies to showcase their brand story and passion projects to build their dream team.
We seek to establish a workplace culture, where people are happy with their jobs, motivating them to work hard which drives personal development and impact.
Wantedly has achieved phenomenal success in Japan, and we are now on a mission to bring the idea of building happy lives through happy jobs in other parts of the world.
We strongly believe in boldness to take initiative, expression of creativity, and taking pride in ownership – and we like to challenge people to unlock their fullest potential.
If you like working in an environment full of energy and passion and enjoy being part of an entrepreneurial team of talented, ambitious young people, we would love to hear from you!
We've got some exciting news for you - Akiko Naka, our founder and CEO, is coming to town!
We'll be selecting 20 Wantedly users to meet her for this exclusive gathering to thank all of you for being part of our community in Singapore!
Because of you, we are able to push our vision to create a world, where work DRIVES passion across the globe (beginning in Singapore)! Ultimately, it's because of you, we've grown this far.
It's all about you, and your special chance to pick the brains behind Akiko and why she began Wantedly in the beginning. Furthermore, she's excited to share her vision for Wantedly in Singapore (also, you can meet the rest of our Singapore team too)!
Want to be part of this intimate session? We will message you more details - date, time and venue - so just click on 'Want to visit'!
Enjoys lunch together
We host bi-weekly team lunch at our cozy office space together! We ... Show more
Exceptional team members
All of us have interesting backgrounds. Some of us had our own blog... Show more
Cool office space
Do you know that we have a ping pong table? You're welcome to chall... Show more
Basic info
Looking for
Marketer
Job type
Internship / Contract work/part-time / Full-time / Freelance
Special features
Available to talk on Skype / Foreign nationalities welcome / Weekend commitment only / Come visit with friends / Students welcome / Free snacks/lunch
Company info
Founder
Wantedly Singapore
Founded on
November, 2012
Headcount
100 members
Industries
Consulting / Survey / IT (Internet/Mobile) / Human Resources / Nursing Care
WeWork Suntec, 5 Temasek Blvd. Level 17, Singapore, 038985