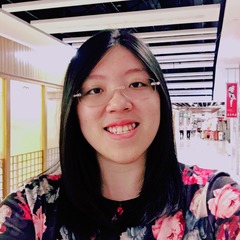 Yunnie Lim
You don't need to be fearless, Just be brave
Sign up to view full profile
Self introduction
Living a life made up of exciting experiences is the fuel that pushes me forward, to venture into new and challenging fields that provide me with opportunities for continuous learning to become a better version of myself.

I enjoy helping people discover and live up to their potential.

In my leisure time, other than spending time on Kdramas, and anime, I enjoy playing with my toy poodle and it is amazing to discover how much she can teach me about life. Whenever I have the opportunity to, I enjoy travelling to different countries and meeting friends with similar interests.
Work experience
Client Success Lead

2018-06 -

Quality Assurance Manager

- Developed and maintain an efficient and coordinated organizational-wide planning system
- Ensured that all regulatory and certification requirements are met
- Conducted independent process audits
- Provided advice for streamlining of processes and compliance related matters

2016-12 - 2018-06

Management Associate

Main Roles and Responsibilities :
- Led a team of 3 to actively manage 8 clients to help them implement and maintain integrated Quality Assurance Systems
- Conducted Process Audits to increase efficiency and productivity for private schools
- Provided consultancy for regulation and certification requirements with regards to the Edutrust Certification Scheme
- Prepared Analysis Reports

Extended Responsibilities:
- Piloted the development of a training programme for all staff
- Involved in the coaching and training for overseas staff
- Involved in the selection process for new recruits
- Actively participated in Product Development for the company
- Involved in the digitalization of workflows and processes for clients
- Provided consultancy services to help client successfully attain Singapore Quality Class Award

Others :
- Panellist for NUS SG HOMEGROWN FAIR-'JOURNEY OF OUR MILLENNIALS!' (2017)

2016-08 - 2018-06

Private Tutor

Private tutor specializing in secondary school mathematics

2011 - 2016

Talent Management & Local Committee Development Director (MCVP TM & LCD)

Talent Management Director
- Worked in a youth-not-for-profit organization to deliver over 400 youth leadership experiences
- Managed the talent planning and recruitment processes for NUS,NTU,SIM,SMU
- Developed and implemented learning and development frameworks for the membership which includes a leadership development framework and a learning framework
- Led teams with up to 15 people with 9 different nationalities to deliver conference to local and international delegates

National Executive Board Member
- Worked in a team of 7 with 4 nationalities to develop and implement organisational strategies for the 4 local offices
- Involved in the creation of marketing campaigns and materials to promote our programmes on facebook
- Managed financial related day to day operations from March 2016 to June 2016.

2015-05 - 2016-06
Education
Information Systems

Certificate of merit in IS Management Knowledge Area
- IT Project Management
- IT Adoption and Change Management
- IT Outsourcing and Offshoring Management

Certificate of merit in IS Technology Knowledge Area
- Enterprise Resource Planning Systems
- IT and Supply Chain Management
- Service Systems

2015-07
Clubs/volunteering
AIESEC in NUS - Outgoing Global Community Development Programme Member

- Participated in the recruitment and management of volunteers for the Global Community Development Programme

Extended Responsibilities :
SYTYCR Conference 2014 (Vice President of External Relations and Operations)
- Successfully sourced for sponsorships for the conference

2013-8 - 2013-12

AIESEC in NUS - Outgoing Global Community Development Programme Team Leader

- Led a team of 4 members to deliver high quality volunteering experiences for the NUS student body
- Successfully achieved recruitment goals
- Explored new ideas to recruit more exchange participants for Global Citizen Programme

2014-1 - 2014-7

AIESEC in NUS - Vice President of Talent Management

* Led a team of 8 department members from 4 nationalities
* Coached August Recruitment OC and successfully achieved recruitment goals
* Coached team leaders on team management issues
* Collaborated with other Executive Board members to improve member development by ensuring that members are equipped with the necessary knowledge and skills
* Successfully revamped TM process (goal setting and reviews) to give members a better understanding of themselves and a more meaningful review of their performance
* Optimised recruitment processes and successfully shortened the duration of recruitment from 4 weeks to 3 weeks while achieving recruitment goals
* Facilitated in AIESEC in NUS Induction day 2014 and Exchange Participant Reintegration Event

2014-7 - 2015-7

Tuniou Primary School (Taichung Taiwan) - English Teacher

Conducted cultural exchange with the children
Planned and carried out various games and activities for the children to learn English

2013-12 - 2014-1

NUS School of Computing

Welfare subcommittee
- Organized second hand book fair for fellow schoolmates

2012-8 - 2013-9
Languages
English

Professional

Mandarin

Professional

Japanese

Conversational
Awards
Best Team Award (AIESEC NUS)

2014

Team Member Excellence Award (AIESEC NUS)

2013

National Youth Achievement Award, Sliver (National Youth Council)

2010

Interact Award of Merit for Community Service (Jurong Junior College)

2010
Publications
Recommendations
No recommendations