Are you ready to take bigger responsibilities with APAC exposure? This is your chance!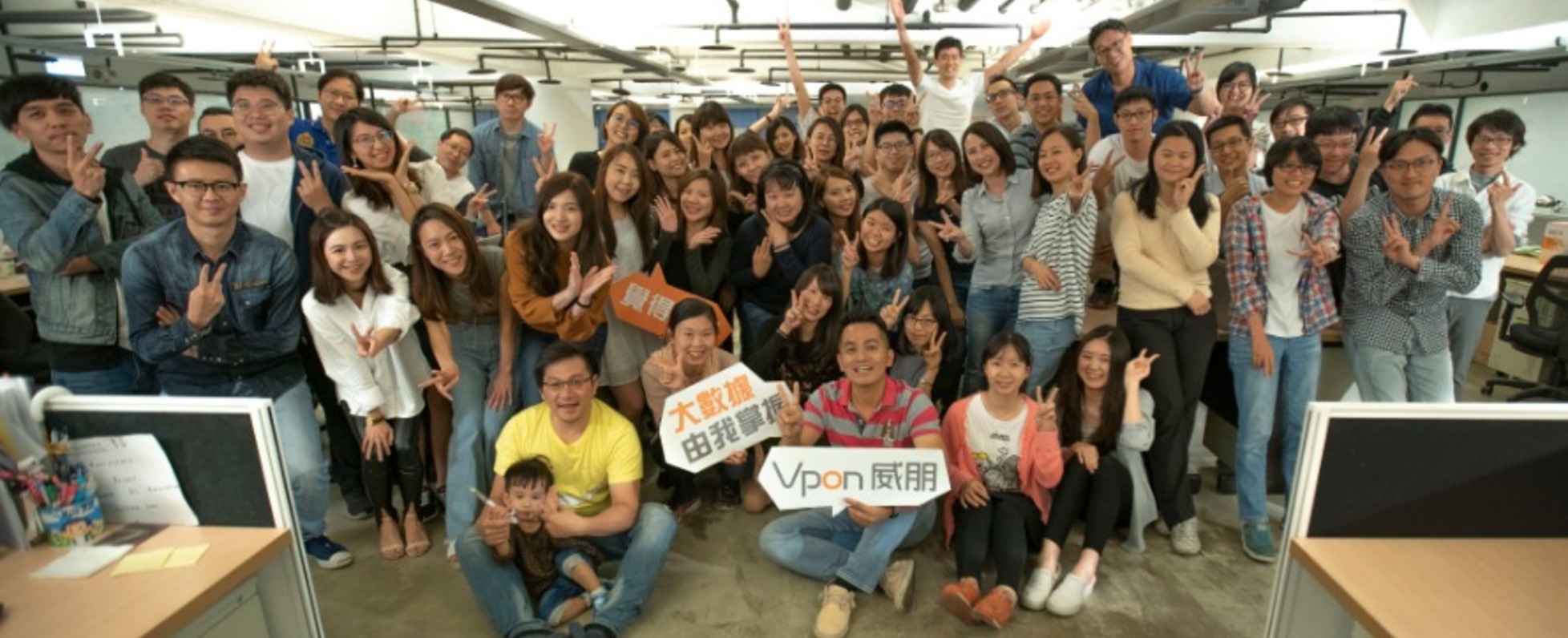 Arthur

COO
HR
Business (Finance, HR etc.)

Arthur
COO
Vpon Big Data Group is an Asia's leading big data company founded in 2008 focusing on big data analytics and application. Supported by the accumulation of massive data from mobile devices, and extensive media resources reaching over 21 million biddable inventories across Asia-Pacific, together with advanced big data analytics technology, Vpon provides the brands with customized data-centric business and marketing solutions, including data analytics services, branding, cross-border marketing and performance-oriented solutions to help brands raise awareness and drive profitable transactions.
We believe in three major elements that composed as our company culture since our establishment. "Entrepreneurial spirit" encourages Vponers to be immune from making mistakes, but proactive in earning experience through trails and errors.
"Openness" encourages the team to think outside the box. Adopting a flat management platform, Vponers are free and encouraged to open communications disregarding their positions.
"Give-and-Take" spirit creates a virtuous cycle not only for a growing business, but also for a sustainable industry. We acknowledge putting ourselves after others can establish a long-lasting mutually beneficial relationship with clients, partners, employees, and the world.
Vpon is highly capable to serve clients across 12 Asia-Pacific countries with its six offices stationing in Hong Kong, Shanghai, Singapore, Taipei, Tokyo and Osaka. As a progressive front runner in data technology, Vpon has an ever-expanding user coverage of 60 million of Asian tourists – Trata DMP in 2017, and 900 million unique devices per month in 2016, raising tens of millions of US dollars in Series A and B funding rounds. Besides, Vpon works continuously with third-party tracking on embracing viewability and transparency, dedicated to maintain a healthy ecosystem and sustainable development in the industry.
Vpon has also been widely recognized in the industry by winning a third place in 2015 Forbes China's Top 100 Privately Held Small Businesses, making a substantial boost from its sixth place in 2014. The company has also won Bronze award for Greater China Specialist Agency of the Year for two consecutive years in 2016 and 2017, proving convincingly its excellent services and profession over 1500 renowned brands.
[About Job]
The Regional Business Development Manager, will support revenue growth by working with the APAC Deputy General Manager on specific strategies and activities to support in the APAC region. You will play a key role in sales and expand on agencies/ resellers/ direct clients, with the vision and ability to give strategic advice and expand APAC markets. Actively competes in the market to increase sales growth.
[About You]
Minimum of 5 years of media sales / agency sales experience.
Experience in digital/online advertising preferred
Ability to take a consultancy approach towards advising clients/ partners on their marketing/ digital strategy.
Highly organized project management and budgeting/planning skills.
Ability to illustrate strong presentation skills and high level of comfort in front of clients/ partners.
Ability to offer proactive solutions to drive new businesses in the SEA region
Ability to work proactively and independently.
Ability to work under pressure and meet the sales target.
Fluency in spoken and written English, Cantonese and Mandarin.
Travel is required for this role
Work-life balance
16 Days of Annual Leave Dental/ Medical Insurance Performance Bonus
Flexible work arrangements
Flexible working hours Cross-functional teamwork
Opportunities to grow for juniors
Empathy during teamwork; in the society, we aim to provide an envir... Show more
Basic info
Looking for
Sales
Job type
Full-time
Special features
Foreign nationalities welcome
Unit 706, Westlands Centre, 20 Westlands Road, Quarry Bay, HK