WANTED: A Digital Content Creator to lead the design of our digital assets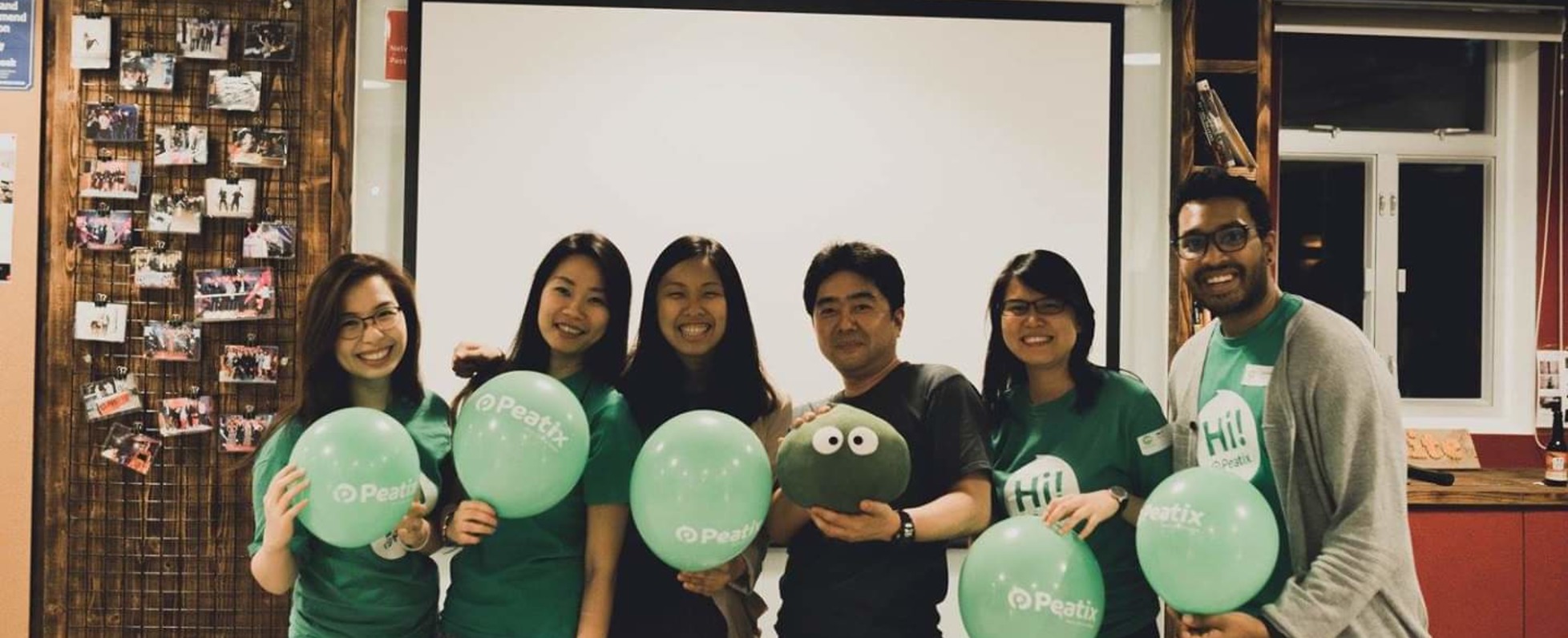 Peatix's innovative, mobile-focused solution aims to bring people together through discovery and pursuit of great experiences, while empowering event organizers to grow their communities by a seamless integration with event ticketing. From concerts to sporting events, and everything in between, Peatix has served over 120,000 events with more than 2 million tickets sold across 26 countries since its inception in May 2011. We aim to enrich the event experience for attendees through social interactions and group/event discovery.
We are a post-Series B startup and our investors include SPH Media Fund, Sunny Side Up Inc. and Digital Garage
Our Mission:
Bringing people together through technology to experience the world in a new way
"Less meetings", "Two pizza team", "Mistakes are valuable intellectual property", "Focusing on the similarities not differences": some of the start up adage that forms part of our culture to always stay focused, innovative and agile.
We respect different working styles. Whether we choose to work from home or from our office, we get things done. Our hours are not longer than usual, but because we're in the events space, you must be willing to work irregular hours.
We collaborate with our colleagues in the Tokyo and New York offices through multiple collaborative tools, and communicate constantly and transparently despite the distance.
Career in Peatix
Do you enjoy high degree of ownership and responsibility? Do you want to be part of a technology platform that empowers the best ideas in the region? Do you believe in our mission to enable risk-takers: artists, musicians, techies, entrepreneurs—to use technology to raise awareness about their projects and make their events more accessible? If yes, we have the perfect opportunity for you.
Got an eye for design? We are looking to expand our fast growing company with a Digital Content Creator in charge of Design and Social Media. In this role, you will report to the Marketing Lead, Asia, and work closely with the global marketing and Asia teams. You will take an instrumental role in the design of our digital assets, be it landing pages, videos or other visual content to drive our content and social media strategies.
Responsibilities:
Create and produce creative materials, including visual content, videos and web pages to tell the Peatix stories and delight our users while proactively evaluating digital assets across Peatix
Plan, develop, and implement content marketing and social media strategies in line with Peatix branding
Manage and monitor social media accounts to delight and engage with users.
Requirements:
2+ years experience in multimedia design and social media
Demonstrable design skills with a strong portfolio
Good knowledge of UI design principles
Experience in creating wireframes, storyboards, user flows, process flows and site maps
Proficiency in Photoshop, Illustrator, OmniGraffle, or other visual design and wire-framing tools
Proficiency in HTML, CSS, and JavaScript for rapid prototyping
Acute creative senses and strong knowledge of typography, image manipulation, video editing and layout
Proficiency in Adobe Creative Cloud and video editing software including Premier / Final Cut Pro
A solid understanding of marketing on social media platforms including Facebook, Twitter, LinkedIn, Instagram and YouTube are essential
A positive 'can do' attitude, a creative and flexible mindset, and an ability to work out of hours (when required).
You must be able to work both independently and as part of a busy team.
Good communication skills in English are essential, both written & verbally
Mandarin skills are desired but not essential
This is a full time position based in Singapore.
Basic info
Looking for
Digital Content Creator
Job type
Full-time
Company info
Founder
Taku Harada
Founded on
January, 2011
Headcount
30 members
Industries
IT (Internet/Mobile) / Entertainment / Leisure
34 Arab Street, Singapore 199733