Know your digital media? Stratgeist is looking for social media content managers!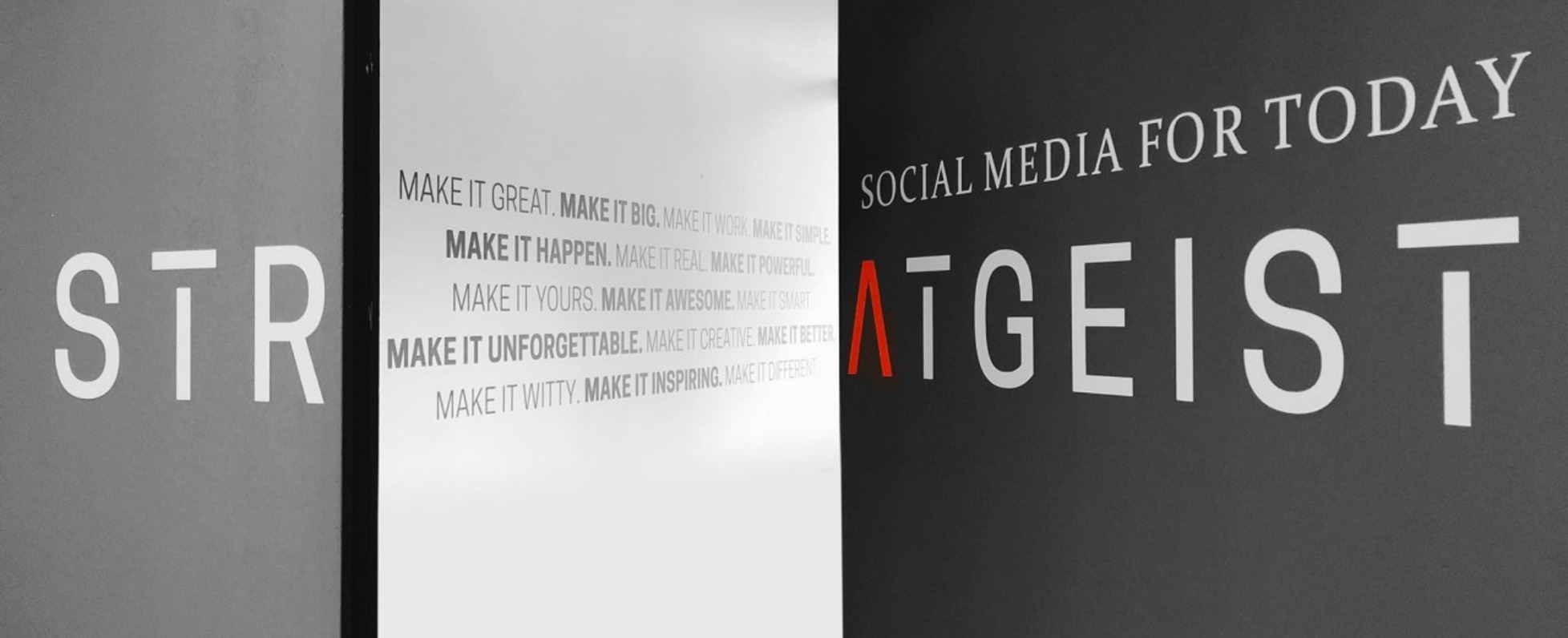 No description available.
Stratgeist Management
We provide comprehensive management services for brands who want to entrust their Social Media outreach to professionals who understand the nuances of marketing, promotion and publicity intrinsically.
Stratgeist Consultancy
Our consultancy arm works with brands who have dedicated marketing and publicity teams, providing strategic advise and guidance for companies to take the effectiveness of their Social Media to the next level.
Stratgeist Production
From high-value TVCs to viral Social Media clips, we are here to help brands harness the value of top quality video content on the newsfeed. Let us help you form the backbone of your digital media strategy with content that stands out on the newsfeed. Check out our showreel here: https://youtu.be/ZctFjZlkRtg
Stratgeist Training
Ready to take your personal knowledge of Social Media to the next level? Our targeted courses are designed to enable business owners, CEOs and marketing professionals with proven methods to achieve their business goals with maximum effectiveness.
We are dedicated to empowering brands to achieve their maximum potential on Social Media through personalised consultancy, management and training.
UNDERSTAND
The Social Media landscape is rapidly evolving and so is our client's business. Our first order of business is to understand our client's objectives, hopes and dreams.
STRATEGISE
Next, we merge our client's objectives with current trends and develop a strategy with the intention of future-proofing our client's business on social media.
ADVISE
Finally, we will keep working with our clients to refine the strategy and pivot quickly to meet the ever-changing landscape of social media.
The Social Media Content Manager will be responsible for driving our brand's Facebook advertising strategy, implementation and reporting. This person will manage the daily advertising needs for brands managed by Stratgeist by working closely with the rest of the digital marketing and creative teams to drive success and scale in our advertising efforts.
The ideal person for this role is someone who is creative, data driven and detail oriented.
Responsibilities and Duties
- To strategise and plan content on behalf of brands
- To create, schedule and distribute the content - with boost posts and paid media
- Forge strong relationships with clients and be the primary point of contact for key activity
- To collaborate with the different internal teams to create and deliver best-in-class social media and content-driven campaigns for our clients
- To liaise with clients to get approval of campaigns and content, understanding their changing needs and adapting our approach to social media management for them accordingly
- To manage the community and monitor online conversations
- To deep-dive into social media analytics in order to gather actionable insights and generate monthly reports
- Stay up-to-date on industry changes to ensure our clients are always ahead of the curve on digital and social
- Work with marketing and content teams to generate advertising assets including video, graphics, ad copy, and landing page URLs.
- Traffic ad campaigns and builds in ad serving platforms (Ads Manager & Power Editor).
Qualifications and Skills
- Creative and energetic with a strong ability to initiate content ideas and execute them
- 1+ years experience working directly for an advertiser, agency, ad tech or social media platform.
- Able and willing to work in a fast-paced start-up environment
- Excellent written and verbal communication skills; effectively communicate with internal stakeholders at all levels of the organization, vendors and team members.
- Ability to create compelling ad copy that finds all the customers and sells all the things.
- Superior collaboration and teamwork skills; experience working with cross-functional teams.
- Must be a positive, hardworking and self-motivated person.
- Intermediate to advanced skills in MS Office software (Excel, Powerpoint) and/or Google for Work products (Google Analytics, Sheets, Slides).
- Positive attitude and hunger for learning and getting your hands dirty.
Benefits
Stratgeist is a fast-growing Social Media Consultancy that believes in giving everyone equal employment opportunities regardless of race, language, religion, sexual orientation. If you are keen to work within a dynamic team of young professionals who are passionate about Social Media and content, Stratgeist welcomes you to submit your application for this position.
Basic info
Looking for
Social Media Content Manager
Job type
Full-time
Company info
Founder
Jason Lim
73 Ubi Rd 1, #06-58, Singapore 408733