IxDA Meetup June 2019: A conversation with Kathleen Chao, VP UX, BNY Mellon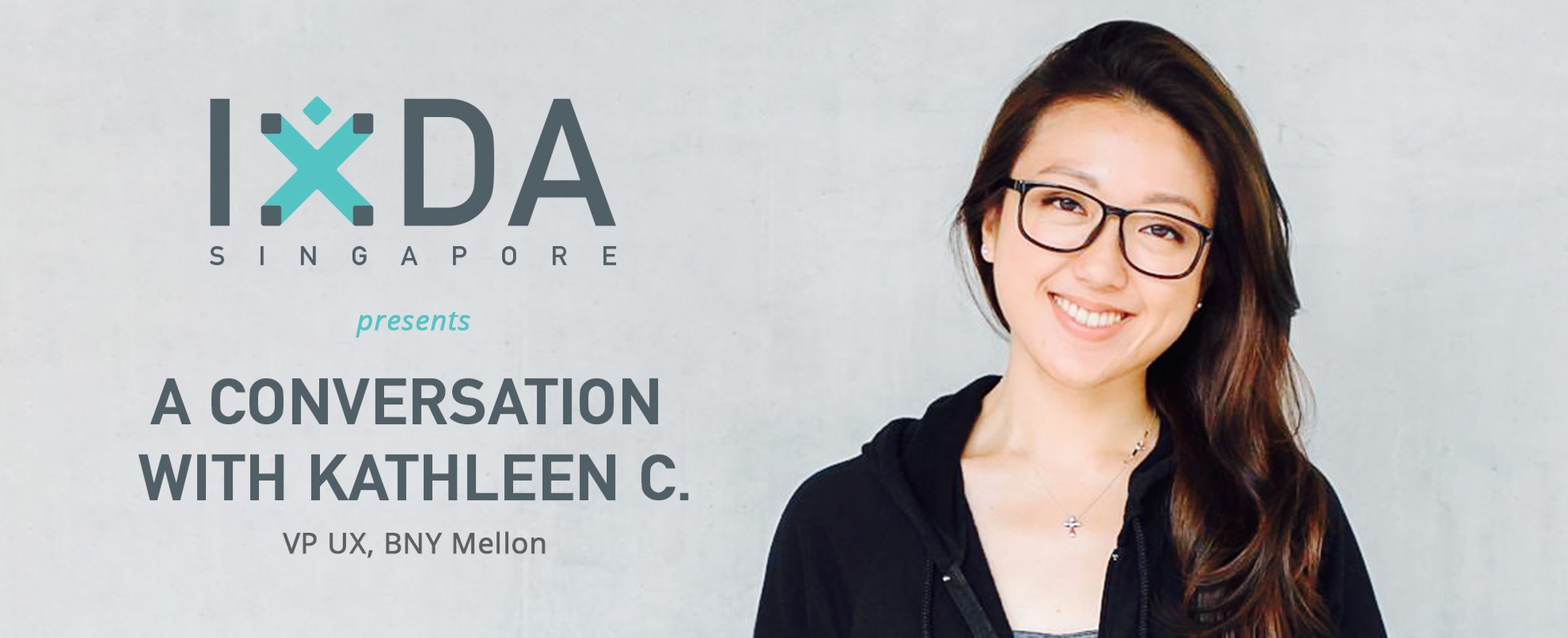 Meetup
2019.Jun.06
Thu
19:00 ~
at WeWork Suntec, 5 Temasek Blvd #17-01, 038985
The Interaction Design Association (IxDA) is a member-supported organisation dedicated to the discipline of Interaction design. We aim to foster a community where design professionals in this field can learn, discover new inspirations and form meaningful connections with one another.
This June, we're honoured to have a fellow community leader at Service Design Network (New York) coming by to Singapore to share with us her journey as a designer working in one of the world's oldest bank.
Kathleen (https://www.linkedin.com/in/kathleenchao/) is a UX designer at BNY Mellon, one of the world's oldest financial institutions in New York City. Coming from a diverse educational and professional background, she learned in early life that happiness simply comes from a good experience — whether it be a well-designed product or a well-curated service.
Her day-to-day job now includes connecting the dots among across-functional teams, analyzing internal operations to support product lifecycle, defining design process and measurement — which are all the essence to allow her to create a good user experience to the end users.
Outside of her daily job duties, she co-runs NYC Service Design Collective, a Service Design Network chapter in New York that she founded last year. She loves bringing the community together where people get to share, inspire, and learn from one another. If you're in NYC next time, please connect with her and share your story :)
Together, we will explore topics like:
- How it's like working in the oldest financial institution
- Her journey as a designer
- Service design community around the world and in NYC
- Design leadership
and more...
This session will be suitable for those who wants to learn more about service design and design leadership, especially in a mature industry like New York and how it may differ or have similarities with Singapore.
---
Agenda for the evening
---
7 - 7:30pm: Registration, networking, refreshments
7:30 - 8:45pm: Conversation with Kathleen
8:45 - 9pm: Open mic
9pm: End
We're hoping to keep the session really informal and casual where it is more conversation centric so bring along some burning questions to the session. The value of the meetup is as good as the questions asked :)
Also, if you would like to ask questions privately, please email us at singapore@ixda.org and I'll ask on your behalf :) Alternatively, you can tweet us the questions @IxDASG (http://www.twitter.com/ixdasg) and we will have them answered!
As we have very limited space, please only RSVP if you can make it so that others can confirm their attendance. See you there!
---
Sponsors
---
We're grateful to have Wantedly and WeWork Suntec to sponsor this meetup. It is only through support with great partners that the design community can benefit.
---
Join the IXDA Global Slack Community!
There's lots of activities going around in our global community. Connect with other designers around the world: http://bit.ly/IxDASlackInvite
---
Want to get notified of future Meetups from IxDA? Join us at http://www.ixda.sg
Location
WeWork Suntec, 5 Temasek Blvd #17-01, 038985
Company info
IxDA Singapore
Founded on 2011/11
30A Seah Street, Singapore 188386
IxDA Meetup June 2019: A conversation with Kathleen Chao, VP UX, BNY Mellon
2019.Jun.06
Thu
19:00 ~
at WeWork Suntec, 5 Temasek Blvd #17-01, 038985