Coding 204: JavaScript Edition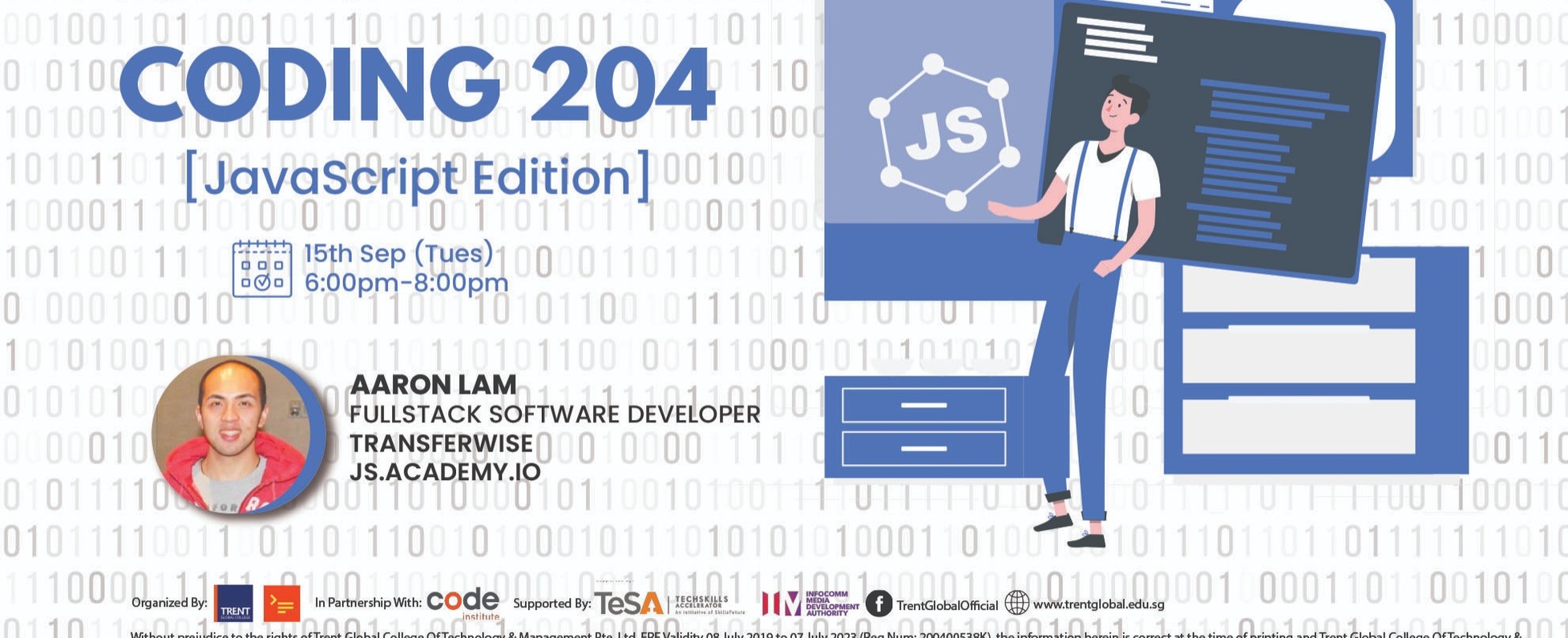 Meetup
2020.Sep.29
Tue
18:00 ~
at Trent Global College of Technology & Management - Online meetup
Alexander Yan
Other

Marcus Tay
Sales

Up to 2 years of experience in management of social communities, design, events and public relations.

I enjoy watching k-dramas, exercising and photography during my free time.

Liansie
Other
An intermediate JavaScript workshop to help you get past an interview!
"I have attended all your workshops for Shopee and each workshop had been executed really well. I really learnt a lot in all your workshops Thank you so much! :D." – Shopee Coding League Participant
With over 3000 Shopee coding league participants enriched in the month of July, JsAcademy.io in partnership with Trent Global College has decided to bring the well-received Intermediate Javascript workshop to the masses!
Introducing JavaScript, the language used in most websites to help make the experience of going through a website even more interactive and engaging. Learn how to decrypt an encrypted string, find out how you can effectively search for words in the matrix and towards the end, see how you can solve interview questions used by the likes of Google, Facebook, Amazon and Microsoft.
*To get the most out of this workshop, prior knowledge in coding would be preferred
Programme Flow:
6:00pm – 6:15pm: Welcome address
6:15pm – 7:40pm: Diving into JavaScript
7:40pm – 8:00pm: Q&A and closing
Instructor Profile
Aaron Lam
Founder of JsAcademy. io
Fullstack Software Developer at Transferwise
LinkedIn
Aaron started out in learning applied mathematics before he decided to take a fateful turn towards software development. Graduating from the world renowned HackReactor bootcamp, he proceeded to hone his craft working for various tech firms like Yahoo and Carousell, utilizing React and Node JS to develop web applications.
Coding 204: JavaScript Edition