呢度! 呢度! LeDo ADs is calling for Web Programmer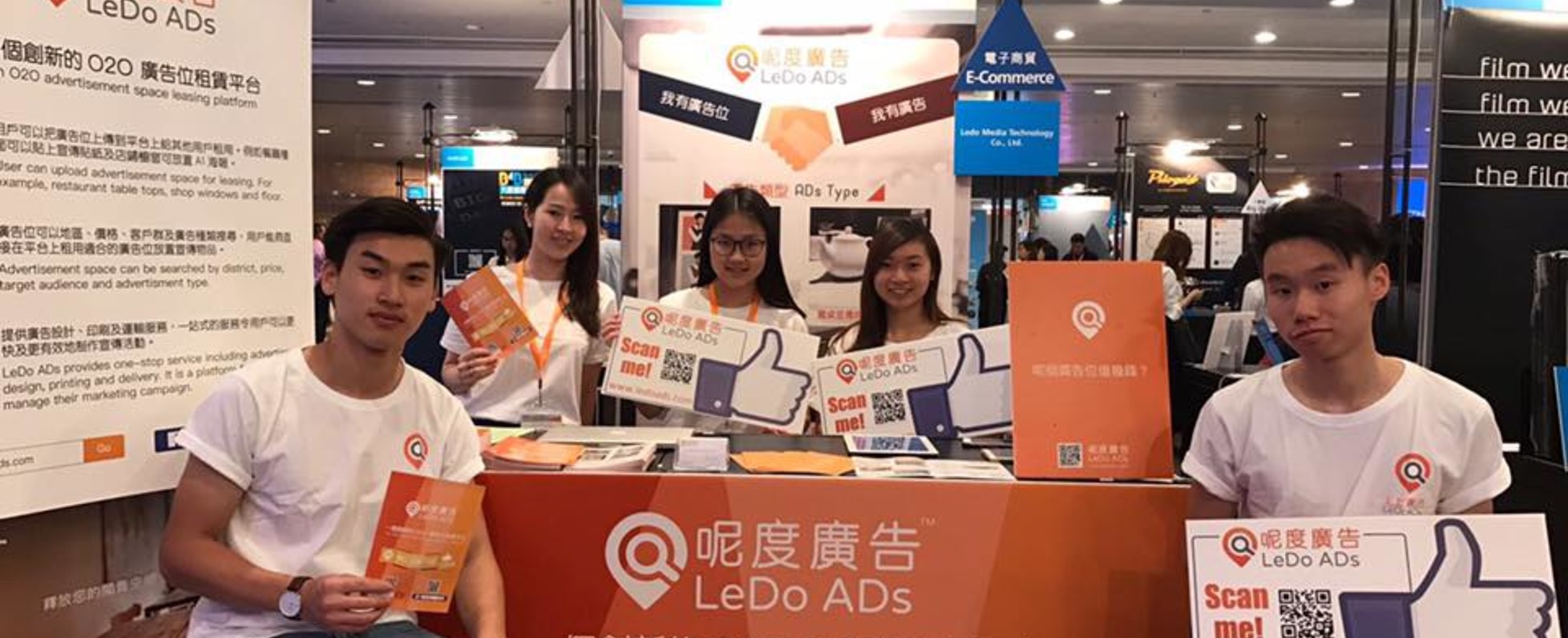 Wai Yat Ho


Jessie Kwok
Marketer

Tsz Kwan
Business (Finance, HR etc.)

Carl Ng
Other
呢度廣告利用共享經濟模式創造「線下廣告位置」配對及租賃平台。線下廣告位置來自閒置空間,閒置空間是無所不在的,例如餐桌枱面、地舖外牆、櫥窗、電梯門等。由於任何企業都需要進行宣傳推廣,線下廣告是推廣活動中其中一個重要成分。
呢度廣告能釋放閒置空間廣告位的價值,容許空間擁有人在平台上面登記他們的廣告位,制定租金水平及出租,從而輕鬆地賺取額外收入。
呢度廣告不僅是租賃平台,我們亦提供一站式服務給廣告位租用方,包括設計、印刷和運輸服務。線下廣告宣傳從此變得簡單。
LeDo ADs is a web platform to facilitate different kind of advertisement spots to be visible in the market. Through the platform, people can easily submit their advertisement spots with a rental price. Other users like SME owners, marketing team from enterprise, advertising agencies can base on target audience, location and price to compare and find suitable advertisement spots for promoting products and increasing sale amount directly.
LeDo ADs is not only a leasing platform; we also provide one-stop service to the advertisement spot tenant, including advertisement design, printing and delivery service. It is a platform for our users to manage their marketing campaign from seeking advertisement location to promotion materials being posted.
The story started with our CEO, Carl Ng's previous venture where he used the typical digital marketing methods – Facebook & Google. However what Carl found is that the most efficient way in HK is still the good old fashion of physical offline marketing based on flyers and posters.

From that, he spotted while there are lots of digital marketing activities going on online, there are plenty of idle spaces anywhere, including but not limited to restaurant tabletops, shop windows, lift door and large surface wall. While all companies need promotion, and offline marketing is still a crucial channel for any marketing campaign, LeDo Ads was born!

LeDo Ads' mission is to help maximise the companies' offline marketing at these valuable but forgotten spaces across HK in the most cost effectively way.
Since we started the concept in 2016, we have already received numerous of awards including the Hong Kong ICT Awards 2017 (Bronze Award), Hong Kong ICT Awards 2017 (Special Award), the HKYEA Awards 2016, and the HKIEF awards.
In terms of the team, we are a group of highly self-motivated young individuals and always thinking of new and better ways of doing things. We want to bring what seems to be traditional marketing to people with a new twist that will be refreshing and impactful.
If you feel you are also passionate about marketing and interested in working for a startup that is fast growing! Look around no more, just look LeDo!
WHAT YOU WILL DO:
• Responsible for Web/API development, enhancement, maintenance and testing
• Develop Web applications and test them in various browsers, enhance and modify them if necessary
WHAT WE NEED FROM YOU:
• Degree or above in Computer Science, I.T. or equivalent discipline
• 1 - 2 years' experience (fresh graduated are also welcome) in web application development In-depth knowledge in HTML5, CSS3, JavaScript, PHP, JQuery, AJAX, JSON, XML and MySQL
• Proficiency in Ruby on Rails is a plus, preferably with knowledge in JavaScript frameworks
• Familiar with payment gateway and shopping cart development
• Good command of English and Chinese
• Hardworking, able to work independently and under pressure
• Immediate available is an advantage
• Candidate with less experience can also apply as Junior Programmer
If you feel you got what it takes, and this position sounds like exactly the kind of experience and opportunity you're looking for, don't hesitate and click "Want to Visit" now!
Basic info
Looking for
Engineer/programmer
Job type
Contract work/part-time / Full-time / Freelance
Lion Rock 72, 1/F, InnoCentre, Kowloon Tong