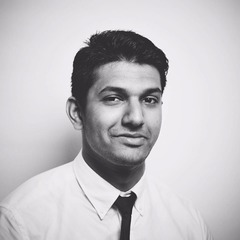 Pritish Char
Try , won't die
Founder

Singapore

2017/03/16に登録
無料登録して全プロフィールを閲覧する
紹介文
What's the difference between a career and a job? It's passion.

And a passionate Engineering Undergraduate I am , embedded with skills and drive to make a successful change in this competitive environment. Quick to realize that I would not make it pro in soccer, I turned to technology and innovation which drew me into a world of problem solving.

A great interest in consulting and the strategy. Armed with a variety of technical and problem solving skills that could be helpful to you and your company.

When I am not studying or trying to understand fluid dynamics , I travel around to the world to be surprised by the flavours and cultures it has to offer me. An Avid foodie, I often love conversing with people about everything and anything.

Also you can call me "British" with a "P"
このさきやってみたいこと
A quintessential hustler that wants to have his own startup in the future , with both feet firmly in the present!

To craft a career around Consulting and Business Development. To focus on the niche fragrance market and do content creation on YouTube for the Singapore Market

To achieve all this, I seek a great mentor in my field to challenge me and push me beyond my limits.
学歴
Biomedical Engineering

2018-04

Biomedical Engineering

2018-04

Biomedical Engineering

2015-05
部活・サークル・ボランティア
Biomedical Engineering Society (ASU-BMES)

2013-3 - 2018-12

ASU Intramural Soccer

Captain

2017-3 - 2017-3

East Valley Krav Maga

2017-6 - 2017-6

St. Luke's Hospital

Technician Volunteer

2017-8 - 2017-8

Universal Home Health

Volunteer

2016-6 - 2016-7
社内外・在学中のプロジェクト
EMG Monitoring System

• Designed and developed an EMG monitoring system. Coded the software for the microcontroller to use the Integrated Development Environment as a medium to display the results
• Built a signal processing circuit board to receive the data from the circuit and display the EMG of the patient in a constant waveform, which could then be used to analyze and interpret the recordings for their physiological significance
• Project Management responsibilities include:
o Ensured resolutions of issues escalated by the Project Board and led the Project Board
o Confirmed that project tasks were completed in a timely manner
o Approved the budget and decided tolerances
Ensured software planning and created timeline for project

2017-1 - 2017-5

Product Design and Development of Medical Board Game

Lead the manufacturing process developing both virtual and physical prototypes using methods such as: Casting and Molding, Laser Cutting, and 3D Printing
• Completed prototype product specification verification and the product design and development process documentation
• Physical Prototyping Lead responsibilities include:
• Ensuring that each physical prototype used in the game are complete
• Validated that manufacturing and quality assurance was both cost and time effective

2016-1 - 2016-5

Edson Student Entrepreneur Initiative

• Participated in the Edson challenge to innovate a hand-held biomedical device that can assist EMT's and Medical Professionals in vein detection on the go
• Developed a Business Plan for execution and source funding for 50% of the project
• Garnered the support of Tempe Fire Rescue Medical Department
• . Granted Lab Space and Funding

2016-1 - 2016-12

Product Design and Development of Blood Glucose Meter

• Received Hands-on training and implementation of product design skills that combine virtual analytical model prototype development with component and sub-assembly integration to develop both virtual and physical prototypes
• Verified selected product architecture specifications from design input and earlier design process verification steps
• Integrated subsequent design constraints to perform virtual verification of alpha prototypes
• Provided effective documentation and design reviews

2015-8 - 2015-12

Product Design & Development of Automated CPR machine

• Created a simulated SolidWorks of an Automated CPR machine from scratch
• Successfully completed 100% of initial phase modeling that can cater to patients of different sizes
• Data was gathered and analyzed for size fitting and device function

2015-8 - 2015-12
言語
英語

ネイティブレベル

ヒンディー語

ビジネス会話レベル

北京語

日常会話レベル
資格
Sergeant Certification Course

2012-8

Medical Orderly Course

2011-7

Mount Sinai High School Diploma

2010-6
受賞歴
Dean's list

2018

ASU Academic Achievement Scholarship

2018

GORE Funding Grant

2018
関心トピック
オフィス訪問 , 専門分野の相談にのる , 採用 , ネットワーキング , 勉強会 , 転職・就職
紹介文
Pritish is a resourceful individual whose core strengths clearly lies in his communication skills and willingness to take initiative. A keen learner who puts his best foot forward to all tasks he is entrusted with.

Marketing Lead / Wantedly, Inc.

Pritish is a responsible and driven person. During my interactions with him, he has shown that he is reliable and will always help a colleague in need. He constantly goes the extra mile and will be a valuable asset to any company.

Chan E Hueen同僚のつながり

Business Development and Marketing Intern / Wantedly, Inc.