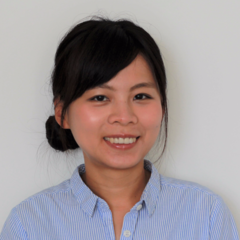 Hueiwun He
Full Stack Engineer
Engineer/programmer

San Francisco

Joined on 2017/08/10
Sign up to view full profile
Self introduction
台湾大学機械工学部を卒業後、新しい環境でチャレンジするため、東芝エレベータ日本本社に新卒入社。海外技術部署にて、中東エリアを担当。その後、台湾デルタ電子の日本支社にて、新規事業を担当。日本での仕事経験は合計6年。日本語/英語/中国語で業務に従事。 

2017年1月より、主人のサンフランシスコ赴任に伴い、サンフランシスコに移住。
生活にも慣れてきたので、今夏より、シリコンバレー/サンフランシスコで求職予定(労働許可証取得済み)。今までメーカー系企業で働いてきたが、今回はIT系スタートアップの勢いのある環境で、業務問わず、何でもチャレンジしたい。

Proactive technical project manager skilled in streamlining operations and solving problems to ensure best product quality and on-time delivery. Well-experienced in coordinating diverse teams to complete projects. Good organizational skills with advanced communication and multi-language ability.
Ambition
日本で海外部署と連携をしてきた経験を生かして、アメリカでも、多国籍なスタッフと連携しながら、業務内容問わず、クロスボーダーに会社の文化を一緒に作っていけるような仕事がしたい。スタートアップという変化の大きな環境に身を置き、自分ができることを少しずつ増やしていきたい。
Work experience
Lens OEM Sales Engineer

‧Responsible for lens OEM products with Japanese client
‧Coordinated product from quotation phase to completion
‧Supervised the product quality to meet the client request
‧Assisted in eliminating product deficiency by technical training support
‧Arranged troubleshooting meeting for improving the manufacture

2015-06 - 2016-10

Project Engineer

‧Responsible for overseas project technical management
‧Reviewed project technical documentation carefully to ensure product integrity and safety
‧Advised on cost reduction measures and proposed alternatives
‧Coordinated work with headquarter - factories - overseas subsidiaries to ensure optimal progress
‧Implemented technical studies of layout/ specification and manufacturing order to factories
‧Directed design team to resolve unclear specification for minimizing project problems.
‧Supervised design schedule and followed up manufacturing progress to meet client's requirement.
‧Trained overseas team members for layout drawing and new product design
‧Developed 3D elevator decoration simulation software as new proposal method to increase orders
‧Assisted in preparation of proposals for possible projects

2010-11 - 2015-05
Projects
(Individual project for Coding Bootcamp Hackbright Academy)
GooTrip helps you create your own travel guides with personal travel memos -restaurants, activities, personal notes- anything you would love to keep up with your travels.
With GooTrip users can enter the places they would like to visit and attractions within that location. They can then also make personal notes on each attraction. The result is a great, interactive guide with all the places to visit, details about each attraction, a Google map to show where the attractions are located, and photos for each attraction. GooTrip is designed to easily add/update/delete travel details, and uses a machine learning algorithm to provide recommended attractions based on your list and locations others have visited.
Tech stack: Python, Javascript, HTML, CSS, Flask, Jinja, jQuery, PostgreSQL, SQLAlchemy, Bootstrap, React, Google Map API, Wikipedia API

2018-3 - 2018-3
Education
Full-stack software engineering

Python, Javascript, HTML, CSS, Flask, Jinja, React, jQuery, PostgreSQL, SQLAlchemy, Bootstrap

https://hackbrightacademy.com/blog/amazing-web-apps-built-by-female-engineers/

2018-03

Master Degree in Mechanical Engineering, Manufacturing Division

2010-06

Bachelor Degree in Mechanical Engineering

2008-06
Languages
Chinese

Native

English

Professional

Japanese

Professional
Connections on Wantedly View all 1
Consultant / en world Japan K.K.
Recommendations
No recommendations