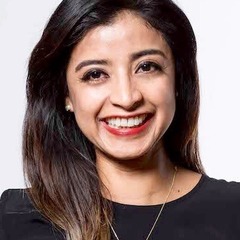 Nayibe Segura
Business Operations with a focus aligning processes
Sign up to view full profile
Self introduction
I work with companies to shape their operational and financial structure by aligning all business functions - from sales to cash flow, to optimize their business processes and resources.

My strength lies in identifying their operational challenges and areas of improvement, connecting the dots and finding efficient solutions that facilitate growth and performance.

I'm a curious individual who is fascinated by new ideas and who is always seeking to learn new things - I'm at my best in fast-paced and global environments. Connecting with people is also very important to me and it's at the base of how I work.

I've recently moved to Singapore to take on a challenge in a city that actively supports technology in a competitive business environment. Prior to moving to Singapore, I worked in Business Operations and Business Analysis in Mexico, and I spent 2 years in the United States working in Marketing & Communications, Global Partnerships, and Program Operations.

Currently, I'm pursuing a role where I can use my business knowledge and skills to develop analytical frameworks that support the company's operations and expansion.
Ambition
I'm looking forward to an opportunity in a team that is shaping the business with the use of technology. I want to be involved with the design of innovative strategies which can drive growth in new global markets. I aim to collaborate and aid teams in developing long-term strategies, assessing international market expansion, and execute the actions for the growth of the company. Understanding clients' needs to ensure that all customers are getting the value that they are expecting out of the product/service that is offered.

- Expansion & Growth Strategies
- Go-to-market strategies
- Customer Success
- Marketing Performance
- Strategic Partnerships
Work experience
Partnerships Team Lead

Three months project to collaborate with the executive team to create a pipeline of relationships with potential partners and get them onboard to create the Slush Singapore 2018.

2018-06 -

Business Operations Lead

Improved the business financial and operational structure including:
- Development of business' operations processes and procedures.
- Improvement of time efficiency in company's reporting system.
- Enforcement practices and regulatory requirements to accounting processes.
- Monitored expense budget and project progress to ensure the effectiveness of financial controls

2016-05 - 2017-08

Business Consultant and Coordinator

- Mentored companies through the certification process under the B Corporation standards.
- Developed work plans which include financial, social and, environmental aspects of the business.
- Client relationship management with a variety of person audiences, including corporate employees, academic staff, and interest groups to inspire and recruit potential partners customers.

2015-09 - 2017-08

Business Consultant

- Designed and implemented cross-departmental business processes to be integrated with the Enterprise Resource Planning (ERP) and business operation.
- Documented technical and functional business requirements.
- Trained key users on internal ERP systems to optimize the process of transferring information to employees.

2009-10 - 2013-06

Finance Trainee

- Monitored accounting items in SAP, identified opportunities to improve efficiency and recommended on strategic solutions.

2007-09 - 2008-05
Projects
Grameen Foundation - Program Operations Assistant

- Maintained the monthly financing from institutional funders by consolidating a comprehensive report for external auditors which validated the proper use of resources and ensured compliance with requirements.

2015-6 - 2015-7

BLab - Global Partnerships Associate

- Increased the availability and use of the impact measurement tools within the Spanish-speaking countries by validating the language of the B Impact Assessment.
- Used of Salesforce as my main working tool to implement the changes and deliver the strategy within the Latin American business community.

2015-5 - 2016-4

Impact Hub NYC - Operations & Events Assistant

- Coordinated the logistics for events and daily operations which included administrative support, client relationship management, and technical support.

2015-2 - 2015-5

Social Venture Network - Marketing & Communications Intern

- Strengthened the relationship with our network of partners by co-managing communication channels through daily social media and weekly newsletters.

2014-8 - 2015-5
Recommendations
No recommendations