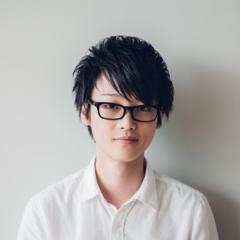 岩永 勇輝
Pursuing beauty in both design and engineering
無料登録して全プロフィールを閲覧する
紹介文
Been interested in creating my own things and figuring out how things work.
Started programming and design at 12.

A bizarre thing is that I've been somehow called "genius" from people around me.
Not that type of person am I, but I bet you what, I have pretty good taste.
このさきやってみたいこと
1. Make my mark upon the world
I believe my life is meaningful for its own sake.
Hate to admit that the world would be the same if I were not in it.
I wanna influence it. I wanna change it. And I will.

2. Write less code, be more strategic
Engineering is merely a way to solve problems.
Goal is to create great experiences even without writing code.

3. Be a good mentor
I owe what I am now to my own mentors.
They've taught me a lot, so I must pay it forward to my juniors.
That's at least what I can do out of gratitude to them.
職歴
Software Engineer

== New business division / Sync team / Lead engineer (Aug 2015 - Aug 2016)
Wantedly Chat (formerly Sync)

== People division / Backend engineer (Sep 2016 - Aug 2017)
- Led to introduce Golang in production web server and spread microservices architecture
- Dockerized local development environments of (almost) all services

== People division / iOS Developer (Sep 2016 - Aug 2017)
- News

== Visit division / International team / Software engineer (Sep 2017 - current)
-

2016-04 -

Representative / Software Engineer

2012-08 -

Engineer Intern

== Visit division / Client growth team (Feb 2015 - July 2015)
- Built a search engine and rich user interfaces for a scouting feature

== New business division: Sync team (Aug 2015 - Aug 2016)
- Create a business group chat

2015-02 - 2016-03

System Engineer

Created backend systems and infrastructures of a tel/fax integrated on-demand delivery service built in microservices. Also designed the corporate logo and directed CI/VI.

2014-02 - 2014-12

Frontend Engineer

Developed in-house services specialized for designers, a portfolio site JAYPEG and a job posting site Moreworks.

2013-03-18 - 2014-04

Representive / Designer / Developer

Designed and coded a bunch of WordPress based websites as a freelancer.

2012-02 - 2013-03
社内外・在学中のプロジェクト
2016-9 - 2017-8

2016-2 - 2016-7

2013-6 - 2014-4
ポートフォリオ・作品
Wantedly People

Wantedly People — All your business cards, scanned in a flash. Even with 100 cards, you'd only...
学歴
Information Systems Engineering

2016-03

Science and mathematics

2012-03
研究室・ゼミ
Takami Lab

Information and communication network services. Ubiquitous network. Software engineering

2014-2 - 2016-3
言語
英語

ビジネス会話レベル

日本語

ネイティブレベル
関心トピック
勉強会 , 週末プロジェクト , ネットワーキング , オフィス訪問 , 専門分野の相談にのる